Don't fight a guy with a weapon named after him: Flashlight & A Biscuit, No. 13
Never bring a gun to a knife fight.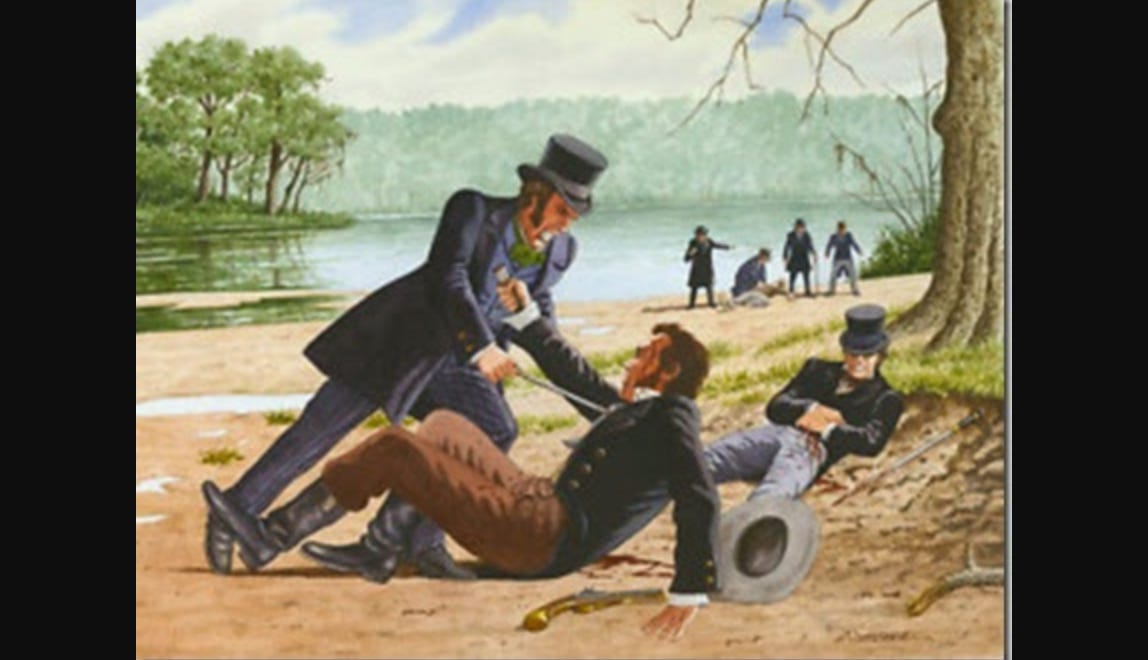 Welcome to Flashlight & A Biscuit, my Southern sports/culture/food offshoot of my work at Yahoo Sports. Thanks for reading, and if you're new around here, why not subscribe? Now, on with the fightin'.
Consider, for a second, the courage-slash-stupidity it takes to stand in front of someone pointing a gun at you that you know they're about to fire.
Consider, for another second, what a bad idea it is to fight a guy who's got a weapon named after him.
And consider, for a third second, the kind of anarchy that results when you decide to schedule a duel on a sandbar in the middle of a river so you can avoid the laws of two states.
Our year is 1827. Our locale is a sandbar in the Mississippi River, on the border between Louisiana and Mississippi. Our occasion is a duel between the ranking members of the elite Wells and Cuny families. This is some real Mississippi Shakespeare stuff, with honor and debts and forbidden love and all that wrapped up here, but for the purposes of our story, we'll begin with Samuel Wells III and Dr. Thomas H. Maddox standing on the sandbar pointing pistols at each other.
They missed their first shots.
Very deliberately, they reloaded. They took aim once again.
They missed their second shots.
And that should have been it. They shook hands; duel over, right? Except as everyone who's ever been to a bar with that that one idiot friend who just will not keep his damn mouth shut, matters escalated between the entourages. Shouts flew, sabres were rattled, and eventually, bullets were fired.
When Wells and Maddox missed, they and the other four members of the dueling parties — the seconds and the surgeons — began celebrating together, which is strange as hell but we'll let that ride for now. But some of the Wells entourage apparently weren't satisfied with the outcome — ain't no ties in SEC country, then or now — and charged the duelists. The Maddox crew then came in hot, and all hell broke loose.
Plenty of preexisting beef stood out on that sandbar that day. One key subplot: in an earlier dispute, a dude named Norris Wright had gone and shot Jim Bowie — yes, the later-Texas-famous Jim Bowie — and so Bowie came strapped for the inevitable rematch.
In the melee, Col. Robert Crain shot Bowie and then, as Bowie tried to get to his feet, Crain belted him with the butt of his pistol so hard that the gun broke. Wright, seeing his chance, fired at Bowie and missed, then just went ahead and charged at him. Wright pulled out a sword from his cane, James Bond villain-style, and plunged it at Bowie's chest.
Unfortunately for Wright, the cheap cane sword hit Bowie in the sternum and bent. Bowie — who, again, had just been shot, brained and stabbed — drew his own weapon, a thick, short-blade knife, and pulled the John Wick-esque move of yanking Wright by the shirt down onto the blade. Wright died, as did Gen. Samuel Cuny from another gunshot, and it was at that point that everyone involved realized things had gotten a bit out of hand.
Wikipedia presents us with a handy box score:

I score Team Wells ahead of Team Maddox on points here, with the two "lightly injured" members of Team Maddox tipping the bout. (Nice of Wells and Maddox to skate without so much as a scratch, right?)
The fight would receive international attention, although it took months rather than seconds because nobody was around to post video to Twitter. In most accounts of the chaos, Bowie was the bout's star. In the course of the 90-second fight, he reportedly suffered two bullet wounds, seven stab wounds and a possible concussion from getting clocked by a pistol butt, but was pretty much exonerated of Wright's killing based on the "he had it comin'" defense.
The knife that Bowie used — with a crossguard and a clip-point blade — was the earliest version of the famous Bowie Knife, one of the most notable weapons in American history and one that we weren't allowed to have in Boy Scouts but got our hands on anyway.
Bowie would go on to become a mythical figure in Texas history, a treasure hunter, rogue and revolutionary. (Lest we romanticize the guy too much, he was also heavily involved in slave trading.) He died at the Battle of the Alamo, allegedly fighting off Mexican soldiers while sick in bed.
Here's a handy wrapup of the sandbar fight:
Best part of that video: the reminder that dueling is still illegal. You know, just in case you were itching to resolve a disagreement that way.
(Source: Natchez National Historical Park.)
---
Street Art Of The Week
From East Atlanta, a Rorschach test: which word do you see first?
---
Recommended
I need a better title for this section. Anyway, here's the content I've been enjoying this week.
Elvis Presley: The 1968 Comeback Special: I fell down an Elvis rabbit hole this week after finishing Greil Marcus's outstanding Mystery Train, in which he ranks Elvis right up there with Jesus, Gandhi and Buddha, and don't ask who got the most first-place votes. This clip is from the special where he returned to reclaim his throne after years of dreck, a transformative moment in American culture that would be like Michael Jordan coming back to win a title with the Wizards in 2002. Elvis is fading from the American cultural landscape, and that's a shame, because he was always more complex than either his fans or his detractors would have you believe.
"Lost River," J. Todd Scott: This is the fourth novel by my college literary running mate Todd Scott, and the first of his set outside of West Texas. Todd's a DEA agent and a hell of a writer; he's got an insider's knowledge of the ugly side of humanity, and a novelist's eye for setting tone, painting scenes and revealing detail. So set aside some time to get wrapped up in this tale of Kentucky crime.
"Long Live The Drive-In," Ace Atkins, Garden & Gun: "Since their invention films were made to be seen on a big screen in the company of others. Not by yourself on your laptop or iPad. It's a shared experience even more intimate and often more moving than attending an SEC football game." A love letter to the Great American Drive-In from one of our best novelists. I love the movies, and I'm going on four months now where the last movie I saw in a theater was a frenetic anime with my son for his birthday. I need movies again, and I'll sit in my car and watch 'em, I don't care.
"The Power of Empty Pedestals," Michael Dickinson and Gregory Smithers, Bitter Southerner: The quote-unquote "heritage" of the Civil War is on display in almost every public space in the South, every single day. Friends from outside the South are stunned when I tell them how pervasive the Confederate flag was for me growing up. (Amusement parks, ballgames, t-shirts, the Dukes of Hazzard …) Anyway, this is an exceptional pair of essays about one of the South's most notable thoroughfares, Monument Avenue in Richmond, so named because of the monuments to Confederate generals. "Haul 'em all down" is an easy solution, but there's more to this moment than that. Recommended reading no matter where you stand in the monument debate.
---
That'll do it for this week. Maybe stay off sandbars for the time being. Peace!
—Jay