Flashlight & A Biscuit, No. 3: Azaleas & Pimentos
It's the little things you miss when the big things go away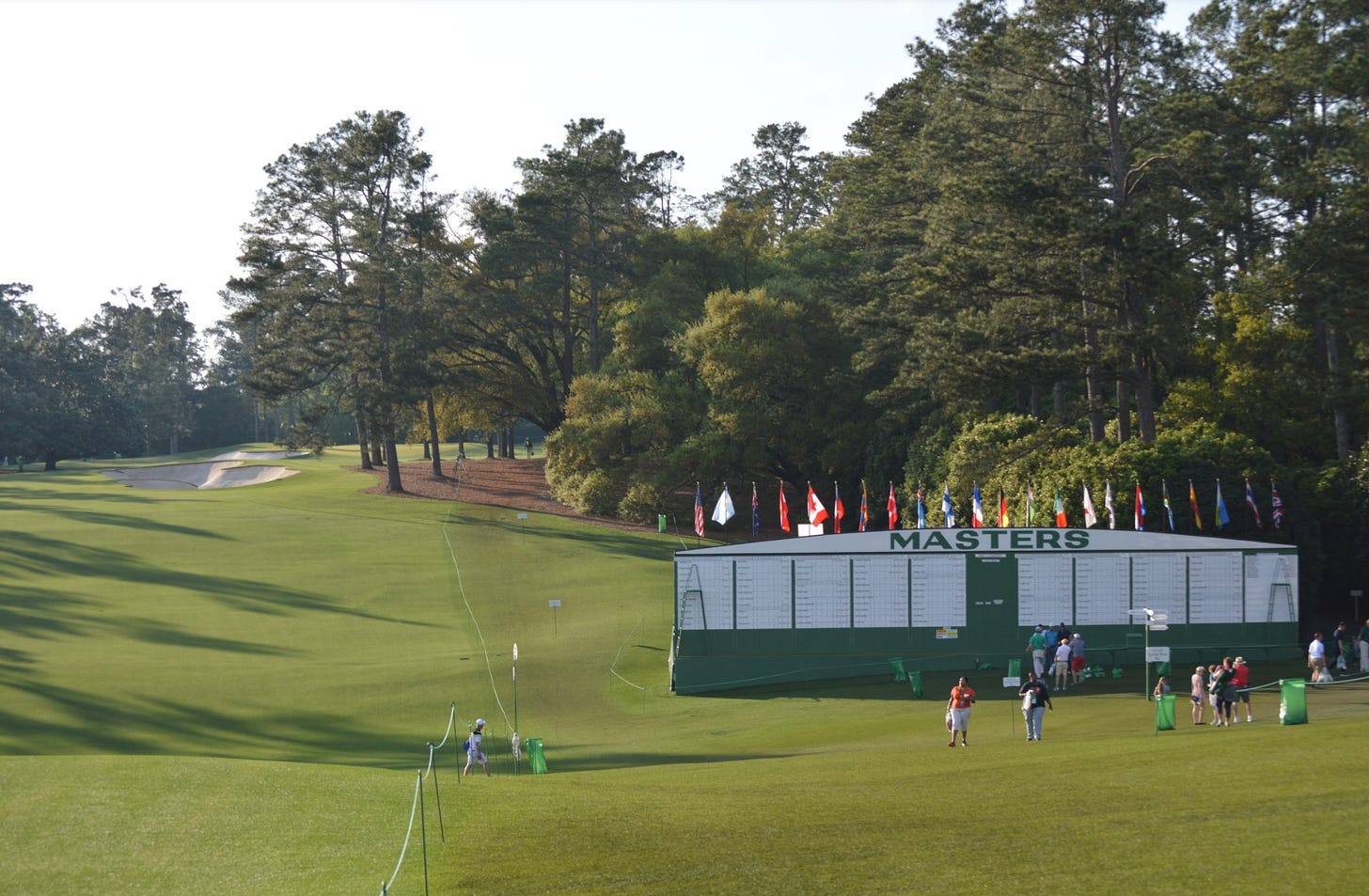 Welcome to Flashlight & A Biscuit, my Southern sports/culture/food offshoot of my work at Yahoo Sports. Thanks for hanging, and why not subscribe below? It's free and all.
Sportswriting is a strange profession — you make friends all over the world, yet you're constantly saying goodbye to them for weeks, months, years at a time. This week, Masters week, is always one of my favorite of the year, because I get the chance to hang out with friends I often only see once a year, at this tiny little town in east Georgia. 
What's so tough about the pandemic obliterating everything in our day-to-day lives isn't just the big, catastrophic changes, but the small ones as well. Even if you're lucky enough to be healthy and untouched as yet by COVID-19, you've lost out on traditions both large and small. 
I wrote about the way that this spring has vaporized Masters traditions on a grand scale Friday over at Yahoo. This here is the companion piece, a smaller, behind-the-scenes version of my own personal Augusta. I've been fortunate enough to cover the Masters for about 10 years now, and the traditions have piled up:
• The first peach ice cream sandwich of the week. (And, the last few years, the only one. Alas.) 
• The first walk into the palatial press building, a testament to Augusta National's brilliant media relations strategy: keep the scribes well fed and comfortably seated, and you'll get all the positive press you can handle. If Trump threw a few free Snickers bars and hot meals at the Washington media, he'd never have to worry about his coverage again.
• The house, lovingly dubbed "The Mansion," where a bunch of sportswriters gather, trade off-the-record tales, cook meals, and unwind on an azalea-bedecked back porch in wet-sock humidity. I can taste the cheap beer someone bought at a nearby gas station and dumped in a styrofoam cooler as I write this.
• The same golf-nerd jokes, every single year: Charley Hoffman leading Thursday. Rory McIlroy imploding early and then playing out of his mind when the pressure's off Sunday. Bryson DeChambeau overthinking, Brooks Koepka overpowering, Phil Mickelson overintellectualizing. It's like hearing a new Rolling Stones song that unfurls exactly like every old Stones song.
• My secret favorite spot to watch groups come through — don't tell anyone. The 11th tee is a tiny, remote location, and if you get there a couple pairings ahead of the big names, you'll be close enough to touch the players … and they will be close enough to hear you. More than once, I've heard two big-talkin' dudes — there are a LOT of those in the gallery, as you'd expect — discussing a player's competence while the player is, like, four feet away from them, apparently unaware they're not just watching him on TV. Every golfer that doesn't murder at least one fan a round is a hero.
• The beverage I have on Sunday morning with two of my best friends. Masters secret: everybody puts down their chairs at specific holes and then leaves them. But there's no rule against sitting in an empty chair that's not yours. If the rightful owner shows up, you simply move down a couple seats. Every Sunday morning before the leaders tee off, we walk down to Amen Corner, get a drink, and toast the year gone by and the year to come. 
• The sound the gallery makes when the winner taps in his final putt. I'm always near 18, rarely close enough to see — the little hillside around the hole blocks any view of anyone farther than a few rows back. But the gallery's sound is a physical force, and you can tell by the quality of the cheers how much the patrons love the winner (Tiger Woods), are relieved for the winner (Sergio Garcia), or … well … accept the winner (Patrick Reed).
• The last look at the course. Every time I'm on site at an event, I always try to take one last minute to look around the stadium, or the track, or the course. You never know when you won't be back. At Augusta, there's a spot right alongside the first fairway that I stop by, every year, long after the winner's been crowned and the stories filed, after the sun has set and all you can see is the silhouettes of tall pines against the twilight. It's a magical moment, and I'm grateful for it every year … and then the security crew runs me off.
Losing the big events to the COVID-19 lockdown is catastrophic. Losing these tiny, personal slivers? They're inconsequential to the big picture, but they're what truly hurts: missed birthdays, missed reunions, missed vacations, missed chances to hang out at a pub or restaurant or back porch and just be together. I raise my Arnold Palmer to each of you, from a distance.
Anyway, when all this is done, I'm gonna gather up all those missed little moments, just like this diligent fellow gathering plastic Masters cups: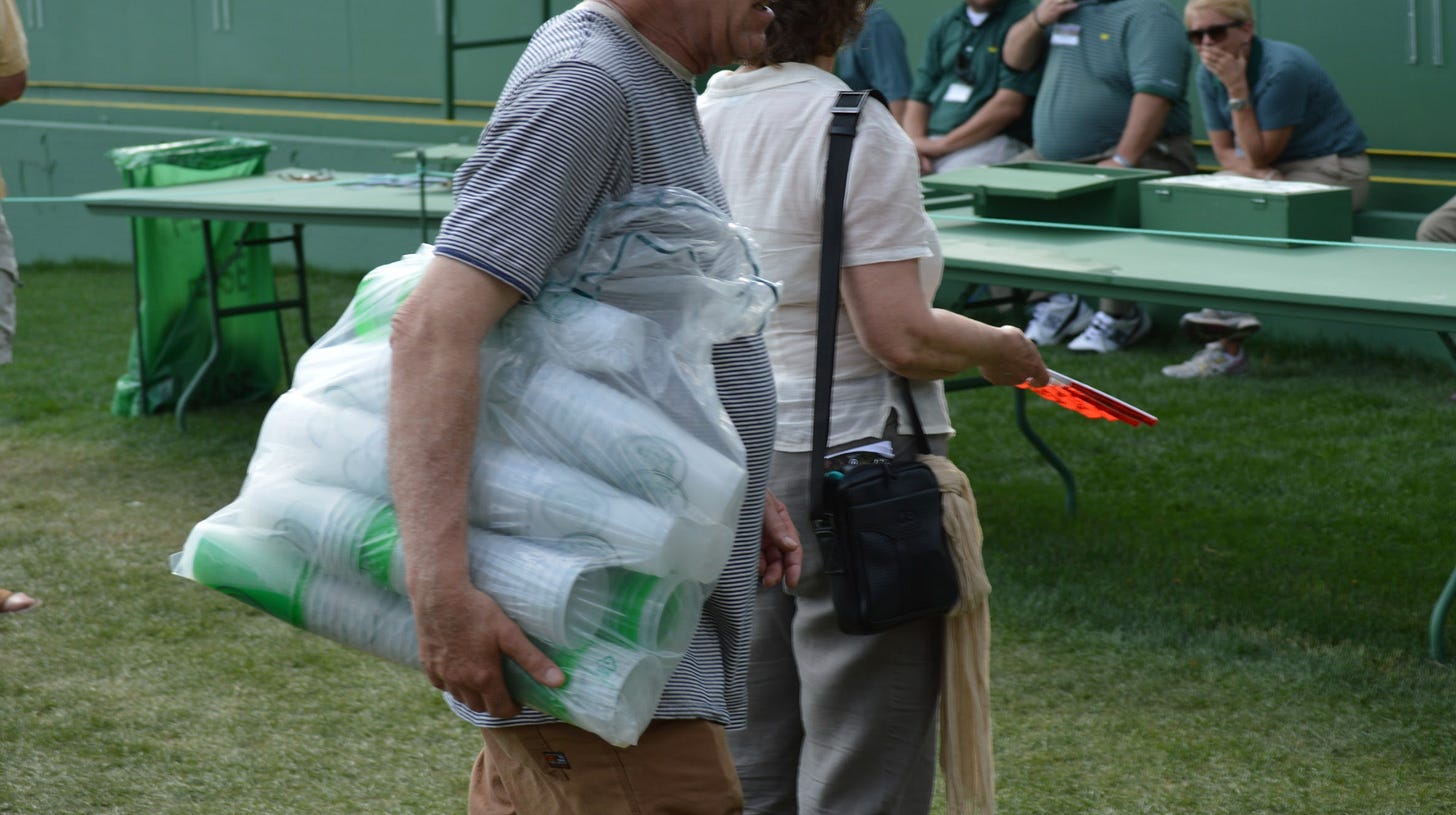 ---
Read This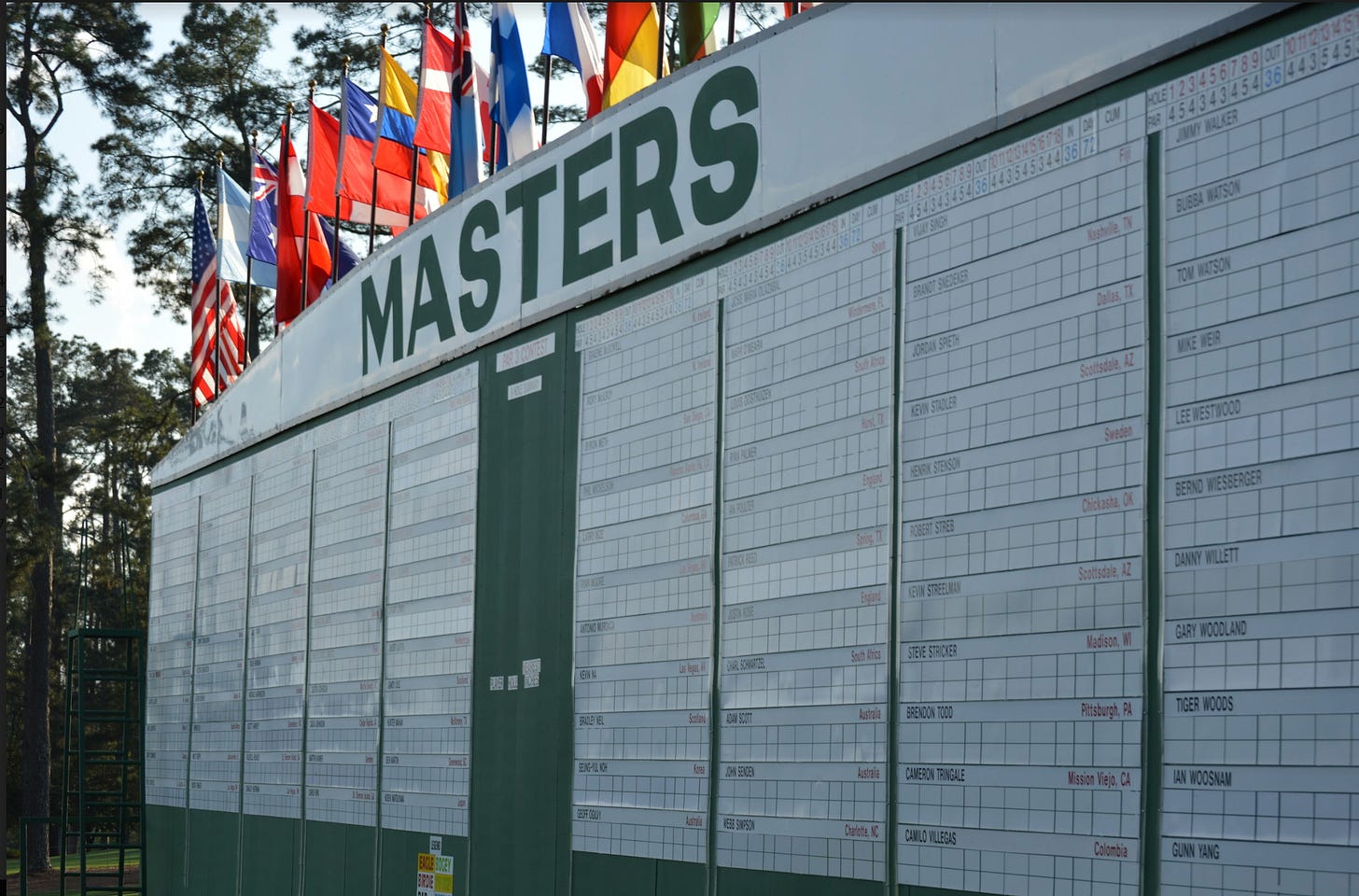 This week, a collection of some of the finest writing on the Masters. Throw on this hour-long loop of the Masters theme song and read these, and it'll be almost like being there:
• Wright Thompson's story of fatherhood and the Masters is an absolute must-read. If you've read it once, you've read it five times. If you've never read it, do so now.
• My Yahoo colleague Dan Wetzel's story of a father and his wheelchair-bound daughter traveling the grounds of Augusta National will getcha, guaranteed.
• Steve Politi's tale of wearing a green jacket around Augusta is one of my favorite Masters tales ever. (Steve also once watched Arnold Palmer order an Arnold Palmer.)
• Rick Reilly's story of Jack Nicklaus' remarkable 1986 win remains a gold standard for deadline journalism.
• More recently, Karen Crouse's investigation of Patrick Reed's fragmented relationship with his family, and the way that played out as Reed was winning the Masters in 2018, is the deepest dive yet into one of the more cringeworthy stories in golf right now.
• Next, Chris Jones on the time a gunman took hostages at Augusta National, and Ronald Reagan himself intervened.
• Dan Jenkins, one of the last of the old sportswriting giants, the guys who typed with a cigar in one hand and a Scotch in the other, wrote this story about Tom Watson's 1981 Masters victory over Nicklaus.
• Here's Spencer Hall's exceptional story diagnosing how the design of Augusta, the "fake Southern wonderland," owes much to World War I bunker strategy.
• On the other end of the reverential spectrum is Shane Ryan, who penned a story comparing Augusta National to North Korea. Yeah, Shane probably won't be going back to Augusta anytime soon.
• Oh, and did I mention that I played Augusta last year? No? I must not have been in your presence for more than 90 seconds in the last 365 days, then. Here's that story.
---
Menu of the Week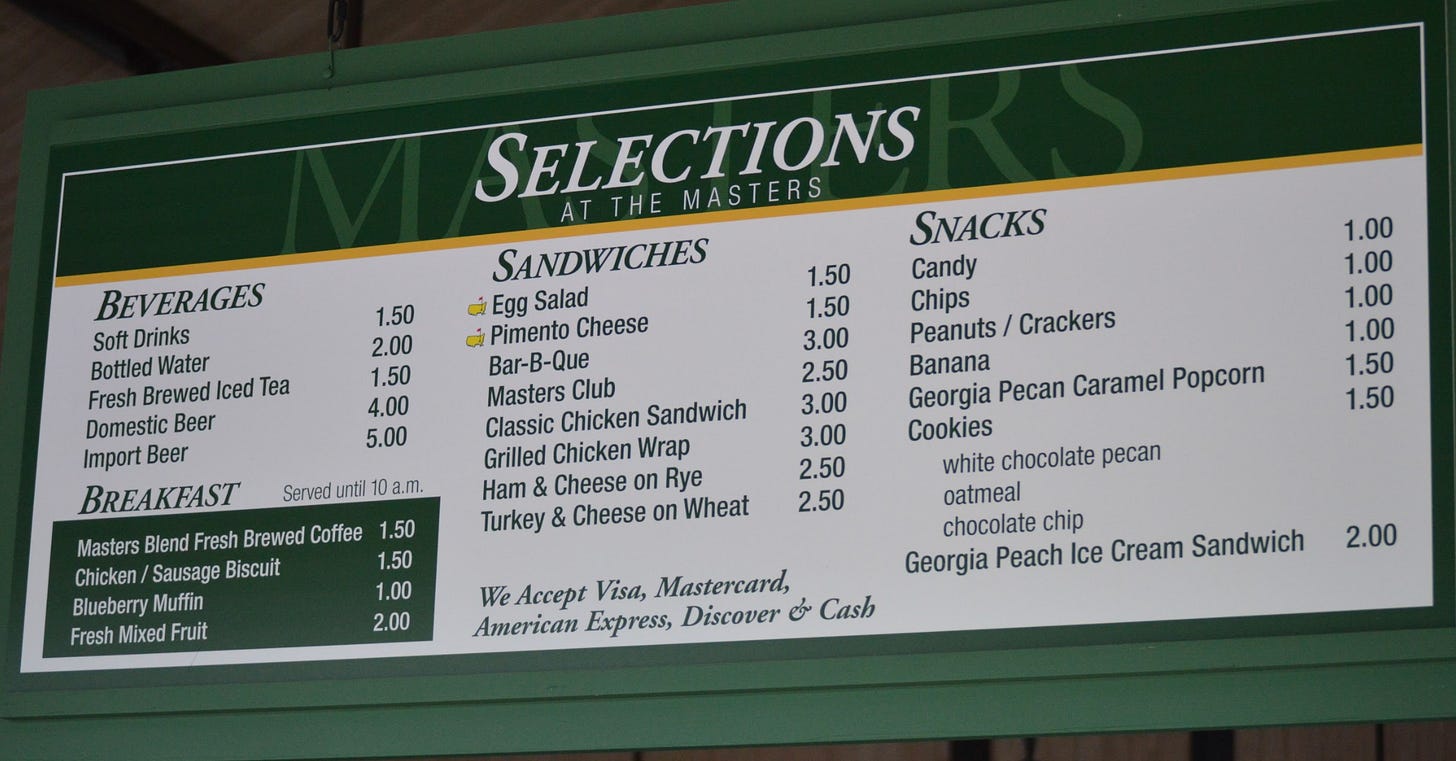 Come on, what else would it be? Take a look at those prices. Take a look at those offerings. Friend, that's nirvana right there. My favorite item on the menu is the Georgia Peach Ice Cream Sandwich ($2.00) but it's all good. I like to go for the remix (Bar-B-Que Sandwich, topped with pimento cheese off the Pimento Cheese Sandwich, plus a layer of Chips, total cost $5.50) or the secret Stand 12 drink (blue sports drink, pink lemonade, splash of Sprite, $1.50). Fun game: what's the best meal you can craft with ten bucks?
---
Stream This
"Saint Cloud," Waxahatchee
OK, enough with the Masters treacle.
Saturday mornings are one of my favorite moments of the week. I like to get up before the rest of the house. Even the dog gives me a look like, "Dude, why?" and goes back to sleep. If I'm feeling industrious, I'll whip up a big breakfast. If not, I'll grab some donuts for the house and then kick back with a book on the porch. Either way, I'm always looking for the perfect soundtrack music, and in Waxahatchee's "Saint Cloud," I found it. The creation of Alabama singer-songwriter Katie Crutchfield, it's lilting, seductive and contemplative; you'll be humming the melodies long before you start picking up on the short stories in every song. Kick back and cue it up next Saturday.
---
That'll do it for this week, friends. Stay safe and keep those connections strong. This all sucks, but we'll get through it. And when we do, I'll buy all of you one (1) pimento cheese sandwich.
-Jay
Next time: We'll put some social distance between ourselves and the world, and get out on the open road.
Previous Issues