How Elvis became The King: Flashlight & A Biscuit, No. 20
Bless my soul, it's time to talk about Mr. Presley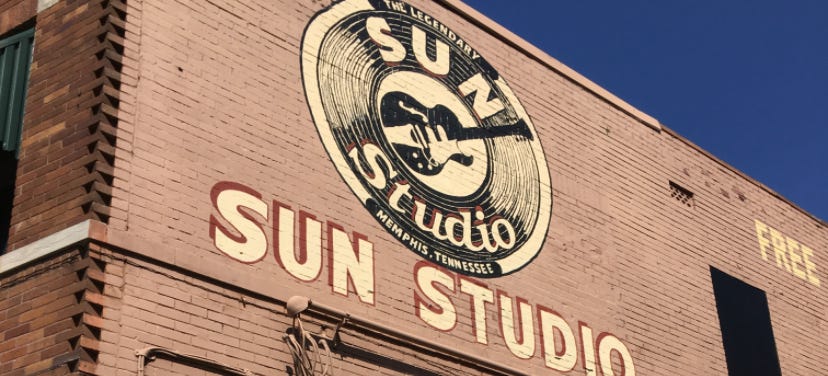 Welcome to Flashlight & A Biscuit, my Southern sports/culture/food offshoot of my work at Yahoo Sports. Thanks for reading, and if you're new around here, why not subscribe? It's free and all. Today: hop on in the shotgun seat, friends, we're rolling into Memphis …
"I don't sound like nobody."
They're the most momentous words in rock music, right up there with "Hello, Cleveland!" and "Groups of guitars are on their way out."* They're the words Elvis Presley spoke the first time he walked into a little joint at 706 Union Avenue in Memphis, Tennessee called Sun Studios, hoping to sing a little song and make a little record as a present for his mother.
(*-The justification a record company exec once used for passing on a new group called The Beatles.)
The Elvis Creation Myth seems too perfect — country boy from Tupelo, Mississippi with a voice like an angel gets discovered singing a song for his momma — but like most myths, you can divine truth from it without necessarily believing chapter and verse.
Back in the early '50s, a young pre-famous Elvis was doing all he could to get by — selling his own blood, driving a truck, working as a movie usher, buying flashy clothes — "Looking for space," as Greil Marcus writes in Mystery Train, "for a way to set himself apart."
Our story now shifts to the reception area of Sun Studios, where on one afternoon in July 1953, Marion Keisker, assistant to the legendary record producer Sam Phillips, was working alone. And then, according to Peter Guralnick in the essential book Last Train to Memphis, "the young boy with the long, greasy, dirty-blond hair poked his head in the door shyly, tentatively, looking as if he were ready to withdraw at a moment's notice if you said boo to him, using that look to gain entrance, determined somehow to make himself known."
"What kind of a singer are you?" Keisker asked the 18-year-old from Tupelo.
"I sing all kinds."
"Who do you sound like?"
"I don't sound like nobody."
For a fee of $3.25, he sang "My Happiness" and "That's When Your Heartaches Begin," and he was absolutely right … he didn't sound like nobody. Listen to the first recorded notes of the great Elvis Presley:
I love this story so much. Elvis wasn't just looking to make a record for his mother; he could have done that anywhere in those days. He was going all-in, singing at a professional studio for a man who had the power to put him on the airwaves … and soon enough, did just that. You know what happened next.
"It is often said that if Elvis had not come along to set off the changes in American music and American life that followed his triumph, someone very much like him would have done the job as well," Marcus writes. "But there is no reason to think this is true, either in strictly musical terms, or in any broader cultural sense."
Elvis died 43 years ago. We've now officially been without The King longer than we had him. The farther we proceed into the 21st century, the less culturally essential Elvis seems to become … and that's a damn shame.
I lived in Memphis for a good chunk of the '90s, a time when Elvis was still very much in the living memory of people you'd see out and about every day. Literally everyone who'd lived in Memphis in the '70s and before had an Elvis Story, or knew someone who did. August 16, the date of his passing — at Graceland, in an upstairs bathroom that isn't on the official tour — was a sort of citywide holiday, a week when the pilgrimage of Elvis faithful would take over the town. I laughed at it then, I respect the hell out of it now.
The easy knock on Elvis is that he was a bloated, addled easy-listening mess who coasted on the goodwill of his fans. That's true, at least if we're talking about '70s Elvis. But '50s Elvis? Damn, son, that guy was a legitimate Threat To The American Way Of Life, at least according to your grandparents and great-grandparents. He scared people in authority, because — like all fearsome entertainers — he could reach their children in ways they couldn't.
But now, like all rebels, Elvis has been swallowed by the machine, and these days his sneers, leers and swiveling hips look as threatening as, well, a teddy bear. Probably the greatest example of Elvis's declining cultural cachet is the fact that he hasn't yet come under any renewed critical scrutiny in the last few years. His image is pretty much what it's been for the last four decades or so, uncancelled, unsanctified, a product of a bygone era. And as an Elvis fan, I'm here to tell you … we need to keep the man's spirit alive.
Elvis wasn't a sui generis genius, creating brilliance out of thin air, but he wasn't a common thief, either, just slapping a white coat of paint on the sounds he'd heard on Black radio stations. The truth lies somewhere in between. It's true, he was riffing on Black musical styles right from the jump, and his pale, open face made that music a lot more palatable to White audiences — but then, so did the Beastie Boys and Eminem, a quarter- and half-century later, to similarly monumental profit. (Remember Em's self-aware, gospel-truth bars in "Without Me": "I am the worst thing since Elvis Presley / to do Black music so selfishly / and use it to get myself wealthy / Hey! There's a concept that works!")
But Elvis also drew on gospel, country and folk music, whipping it all together with a uniquely American confidence and charisma, bravado iced with yes-ma'am humility. Take out any one of those elements and you might have yourself a star, but you won't have an icon. Elvis was the first of the women want to be with him, men want to be him stars of the 20th century, and he rode that aura right to the pinnacle. (And then back down again, but that's a different story, one I'll delve into later. As you can tell, I've got plenty to say about the entire Presleyverse.)
To me, though, it all goes back to that one day in Sun Studios, the moment where he screwed up his courage, stared at the microphone before him, opened his mouth and his heart, and made the leap.
He knew he was good, he wanted the rest of the world to know it too, and damned if he didn't pull it off. Doesn't get any more American than that.
---
Watch this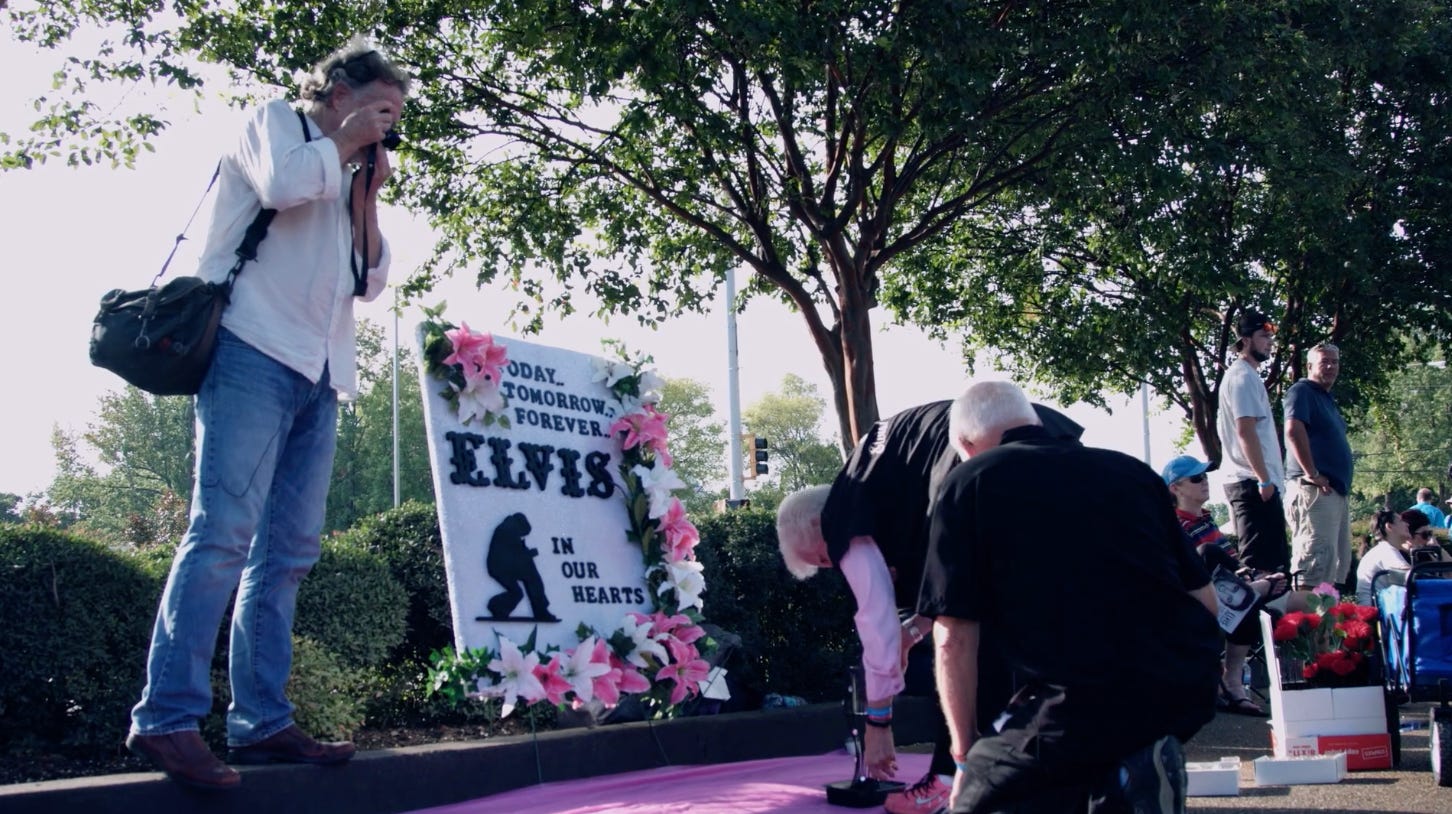 Part of the reason Elvis doesn't get the respect he deserves is that he had the poor taste to live on well past the designated rock expiration date of 27, allowing him to grow old and become a sad, doughy parody of himself. Jimi Hendrix, Kurt Cobain, Janis Joplin, Tupac, Biggie … all have held onto a cultural purity that Elvis, and pretty much every other rock star who didn't die before they got old, frittered away.
But Elvis also catches some strays thanks to his most devoted fans, those who make the pilgrimage back to Memphis this time every year. They're easy marks — the devoted always are — marginalized, decades out of fashion, singleminded in their allegiance to The King.
Over at The Bitter Southerner, a new short film entitled "In Love's Shadow" premiered this weekend. It's the story of Ralph Burns, a photographer who spent 30 years traveling to Memphis on "Death Week" to chronicle the lives of the graying but still reverential Elvis faithful.
"Everyone would tell me the same thing: 'Of course I loved Elvis, and Elvis loved me,'" Burns says. "They loved him more because of his flaws." It's a poignant look not just at Elvis, but at mortality and salvation. It's well worth 17 minutes of your time.
---
My stuff

Brief non-Elvis diversion: over at Yahoo this week, I wrote on how the impending football-less fall is going to flatten the economies and the spirits of two college towns — State College, Pa., home of Penn State, and Pullman, Wash., home of Washington State. (When All This Is Done, I'm going to knock a whole bunch of college towns off my to-visit list, and you're welcome to come along.) Also, if you're of a mind, subscribe to the Yahoo Sports Read & React newsletter for more of my sports witticism, free every weekday.
---
Encore!
Let's close this out the only proper way, with Elvis demonstrating his lethal karate skills. Behold the glory of E, Takin' Care of Business: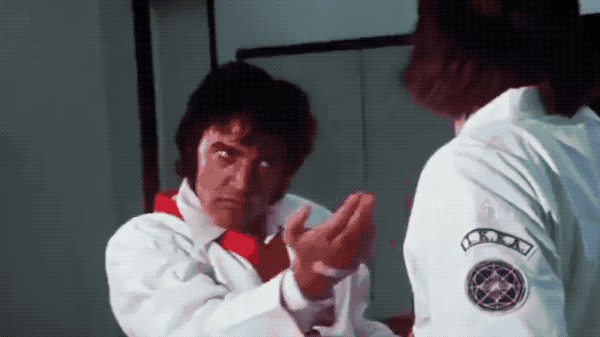 Thank you very much. See you back here next week, my friends. Elvis Forever—
-Jay
If you dug this, get on board this here mystery train for the low, low cost of free: