The tailgate is humanity's greatest invention: Flashlight & A Biscuit, No. 22
Grab some ice and bring your chair, there's drinking to be done
Welcome to Flashlight & A Biscuit, my Southern sports/culture/food offshoot of my work at Yahoo Sports. Thanks for reading, and if you're new around here, why not subscribe? It's free and all. Today: you've been invited to a tailgate. Dress properly, don't be late, and don't show up empty-handed.
[Scene: A fall Saturday afternoon on campus. Sunlight dapples through the trees. Tents line the streets and cover the green spaces between academic buildings and dorms. Tables sag with arrays of appetizers. Coolers snug up together like multicolored huddles. Beats from a dozen speakers pulse through the warm air. Chirpy "College GameDay" highlights flash across TVs jury-rigged to reel in satellite signals. The smells of grilled meat and hope are in the wind. It's glorious.]
Hey! You made it! Welcome, welcome. Pop open your chair right there. Everybody widen the circle, we'll make room.
What do you think? Pretty sweet, huh? Go get you a plate and dig in. You've got to try that chili. Careful, the pot's hot and the table's a little rickety. Did I tell you about what happened when somebody's dog came rumbling through here a few years back? Yeah … apparently melted cheese takes a long, long time to come out of fur.
So what did you bring? A drink? Nah, I don't care what's in it, pour me some.
… dammit, who commandeered the speaker? How many times do I have to tell you, Adele is not tailgate music … there. Drivin' N' Cryin'. "Straight To Hell." Tailgate anthem. People sing along to this, you watch.
[Three tents over, someone starts singing along. Five tents over, someone else joins in.]
Told you.
How was traffic? You take that back route in I told you about, over by the church? Remind me to tell you a story about that graveyard after the kids are out of earshot. It involves the medical school and —
[Out on the quad, the band starts playing the school fight song.]
I feel like we should stand at attention. Should we stand? Hell with it, I'm gonna stand.
Oh, hey, you've got to try these wings. Made the seasoning myself. Here, try. Try. Don't nibble! Go in for a big ol' bite! Get some of that coating! Can you guess what's in it?
Habanero pepper and Fruity Pebbles! It's good, right?
Bathroom … let's see, there's a portajohn over there, but — yeah, it's way too late in the day to use that one anymore. Go sneak in there, the Mathematics building.
[Women in sundresses and men in khakis dart into the building, dumping out their Solo cups as they go, beelining for the first-floor bathrooms.]
Find what you need? Good. Did I ever tell you about the time a few of us went in there and … aw hell, the kids are still listening. Yeah, we, uh … we went in there and studied hard and got As on our midterms. That's exactly what we did.
Hey, speaking of which, you see that nerd in there studying? On a football Saturday? Who even does that, man?
… yeah, you're right. I want to trade places with him too.
This is what it's all about, man. College football is just about the greatest damn enterprise on earth, and also the worst. Isn't that weird? That we can be sitting here having so much fun, so much love in the air, and yet we're all here because of a system that's corrupt as hell, and we all know it? The coaches make millions, and the players ought to be getting a bigger slice — don't start with me, you know it's true, they're the engine of a multibillion-dollar enterprise — and all the money tilts colleges sideways and warps everyone's priorities—
I'm fine! I'm fine. This is only my third drink. Or something. Here, fill me up again. That went down smooth.
I know, it's a tailgate and we're not supposed to talk politics. And I won't. It's just … look around here, y'all. Look at all these tailgates. Everyone respects everybody else, everybody plays by the same rules. Why? For the good of the community!
You don't crank your music too loud, even though you want to, 'specially when "Ante Up" comes on. You don't pee on the ground, even though you probably need to. Why? Because you've got neighbors right there! And we're all part of the same team! We all give a little to get a lot more! Why can't America recognize that we're all—
[At the next space over, a huge fire flashes up, singeing everything including the metaphor.]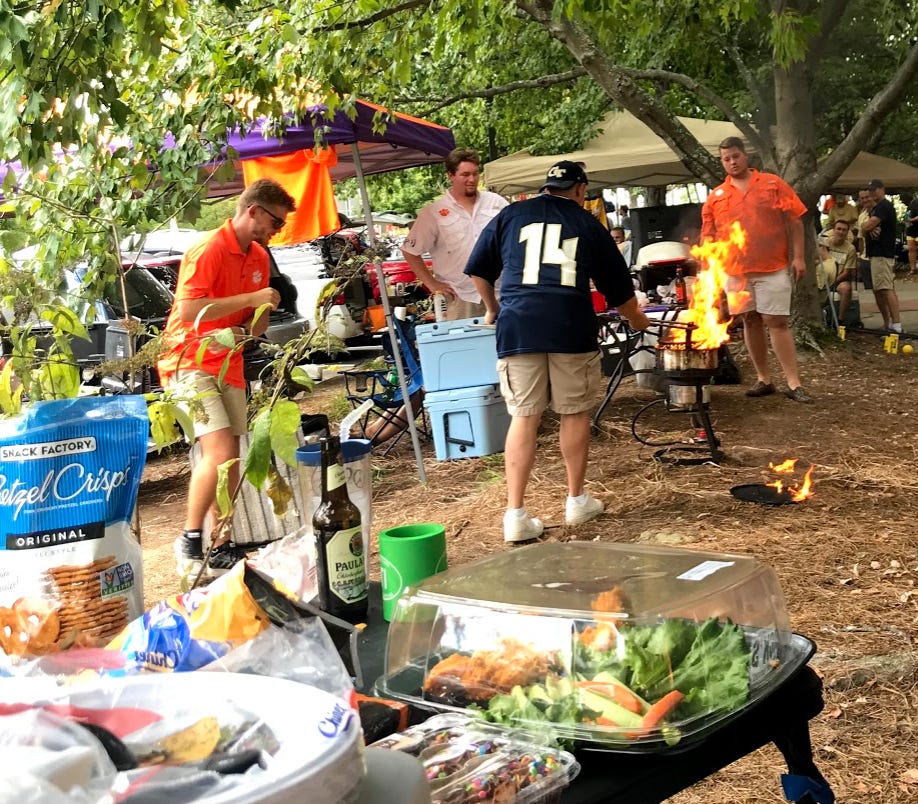 Jesus. Those idiots. How do you start a grease fire at a tailgate? Clearly aren't any LSU fans in that crowd there, I'll tell you that. LSU fans can cook a possum on an engine block and it'll taste like Thanksgiving dinner.
[With the help of multiple alumni and some dirt, the grease fire is contained. The overmatched would-be cooks look on in astonishment at what they set off.]
ANYWAY. Enough of all that. Sorry, my friend. You throw a couple Jack & Cokes in me at a tailgate and I start ranting like I've got my own Netflix special.*
This spot? We've been coming here since … since forever. Shoot, I think this may have been our family meeting spot right after graduation. Those bushes right there? Where are the kids … okay, good. Those bushes right there are where I hid when one of my roommates started launching bottle rockets at the windows of that dorm there. He missed every time but one … but that one set off a fire alarm and they had to evacuate the whole building. Was like Luke Skywalker and the Death Star, man. Never seen anything like it.
I know it was stupid, that's why we did it!
Anyway. Yeah. These sidewalks, these trees, these buildings … they were here before I was here, they were here while I was here, and they're gonna be here long after I'm gone from here. I kind of love that, you know? I love that all these idiot freshmen walking through here are layering their stories on top of mine, the way I layered mine on top of those old alums, the ones you see hobbling around with canes.
Christ, what's in this drink?
Look, you know and I know. The world is shit right now — oh, come on, those kids have heard a lot worse on the playground, you know they have — the world is shit, but as long as we can gather around here, tell stories, keep the past alive for future generations, spend a little time together … this is what Saturdays in the fall are all about.
Kickoff? Aw hell, kickoff ain't for another four weeks. We're just here for the tailgate!
*-This story is somewhat fictionalized but this line is one that's absolutely true.
---
Read this
"The Strange And Mysterious Death of Mrs. Jerry Lee Lewis," Richard Ben Cramer, Rolling Stone (1984)
Richard Ben Cramer was one of the last of America's great capital-letter Magazine Writers, dudes who would get paid tens of thousands of dollars to spend months interviewing dozens of people and pounding out thousands of words for a single story in marquee venues like Esquire, Rolling Stone and Sports Illustrated. Everything ran to extremes, from word counts to ambitions to appetites. The media business is not, to put it lightly, like that now.
Anyway, I stumbled back across this gem from Cramer, a 13,000-word beast of a story that basically accuses Jerry Lee Lewis of killing his fifth wife and using a network of good ol' boy cops, docs and lawyers in North Mississippi to cover it up. (There's a reason Cramer calls Jerry Lee by his stage nickname — "The Killer" — throughout the piece.) This is a wrenching, heartbreaking story of a remorseless, amoral man and the young woman who thought — for 78 days, anyway — that she could ride his wave.
---
Stream this
The tough weeks keep coming. Last week we lost Justin Townes Earle, a brilliant, 38-year-old singer-songwriter whose gritty Americana always seemed way out of step with contemporary trends … which was always for the best. Earle died of an apparent overdose, possibly accidental. He struggled throughout his life, and his writing career, with themes of condemnation and redemption, looking for the best in his subjects while always seeming to know how far he had to go. It's an absolute tragedy to lose someone with such talent so young. Above is one of my favorites off his most recent album, 2019's "The Saint of Lost Causes." Here's a strong eulogy for him and his work.
As always, you can find the ever-updating F&AB Spotify playlist right here:
---
My stuff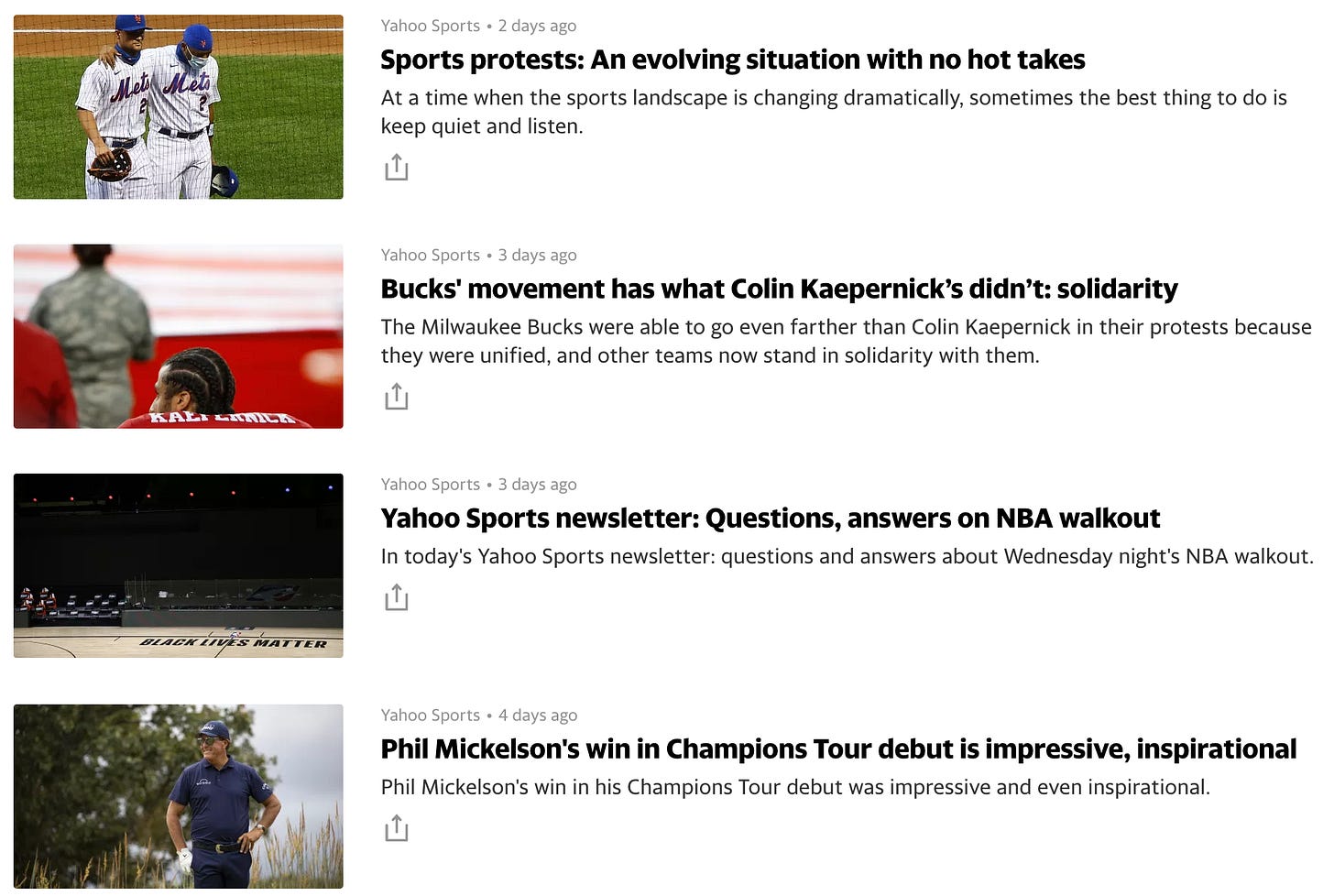 Over at Yahoo this week, I went deep on protests and ratings … yeah, "stick to sports" isn't happening anymore for anyone. Also feel free to subscribe to the Yahoo Sports Read & React newsletter for more of my sports and sports-adjacent content, free every weekday.
---
Last call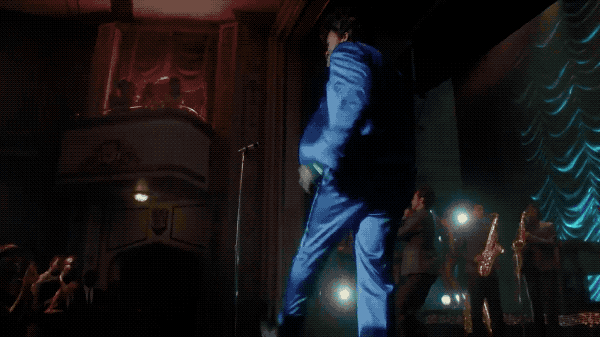 Chadwick Boseman's passing is just an incalculable loss in so many ways. As Black Panther, the guy was literally an inspiration to a generation. But if you missed him in "Get On Up" as the Crown Prince of Augusta, Georgia, Mr. James Brown, well … add that to your list. It may not have the majestic power of his appearance in Avengers: Endgame, but it's a whole lot funkier. Rest in power.
---
That'll do it for this week, friends. Meet me at the tailgate, and grab some chips and ice on your way in, will you?
Keep an eye on your inbox for a special midweek F&AB with an announcement of a fun new project I'm launching, and we'll see you right back here next week!
-Jay
If you're new here, be sure to subscribe for the low, low cost of free: