'Who's that [expletive] in the pace car?': Flashlight & A Biscuit, No. 12
On Talladega Superspeedway, where the laws of man are merely a suggestion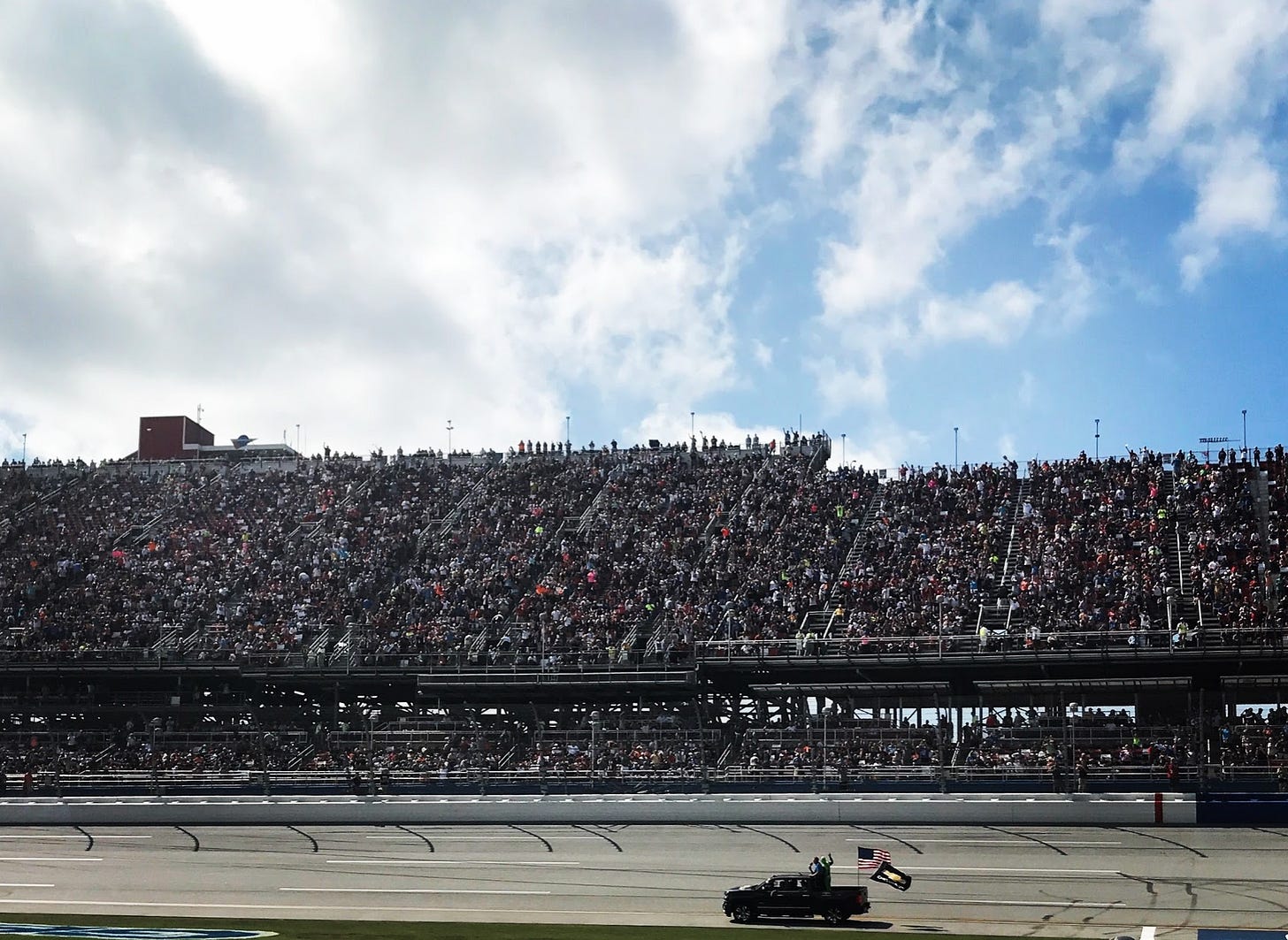 Happy Father's Day to all the dads out there! And welcome to Flashlight & A Biscuit, my Southern sports/culture/food offshoot of my work at Yahoo Sports. Thanks for reading, and if you haven't gotten your dad a gift yet, why not subscribe him to this here newsletter? It's free, and he'll thank you for it.
It's not much to look at, honestly. The 1960s girders-and-sheet-metal aesthetic can't compare to Fenway Park or Wrigley Field. The nubby hills nearby don't even approach the majesty of the San Gabriel Mountains just outside the Rose Bowl. The broad, flat, featureless plain has none of the natural majesty of Augusta National.
But if you're making a list of iconic American sports venues and you don't have Talladega Superspeedway right near the top, my friend, you need to rethink your list.
Nestled in a cradle of small hills in north-central Alabama — the state's tallest point, 2,497-foot Mount Cheaha, is off in the distance past Turn 3 — Talladega, which hosts a pandemic-delayed race this weekend, is one of my favorite sports destinations on the planet.
You come up over the hill on Interstate 20 early on a Sunday-morning race day and you see the enormous flags fluttering and smell the low haze of campfire smoke, and it's as holy as anything you'll find in church. The largest track on the NASCAR circuit, it's a monument to speed and courage and insanity.
It's also as weird as anything you'll read in Faulkner or, for that matter, Poe. Drivers have died here, drivers have heard ghosts here. This is a terrifying place to race, not just for the people behind the wheel — speeds can get well over 200 mph on the 2.66-mile track — but for the people in the stands, as well. Cars have gotten airborne here, and only fences and miracles have kept them from raking through full grandstands:
But let's not talk of tragedy or near-tragedy. Today, let's discuss one of the stranger moments in Talladega history: the time a drunk fan stole the pace car right in front of 125,000 people.
The year was 1986, and this was the NASCAR era of Dale Earnhardt, Darrell Waltrip and other legends. Then as now, the moments prior to the race were absolute chaos: hundreds, maybe thousands of people milling around the cars on pit road as they prepared to roll out onto the track. As always, they would follow a pace car — usually the newest model of one of the sport's auto manufacturers, often driven by a local celebrity or retired driver.
On this day, just minutes before the green flag, the pace car, a gleaming red Pontiac Trans Am, rolled off pit road as normal. There was just one problem: nobody had any idea who was driving it.
That morning, a 20-year-old Birmingham resident named Darren had gotten up, taken a motorcycle for a test drive, gotten caught in race-day traffic, bought a ticket, and snuck onto pit road. By that point, like Cal Naughton Jr. at the eagle-winged-Jesus-fronted Lynyrd Skynyrd concert, he was hammered drunk.
At that moment, ol' Darren saw the greatest temptation of his life — a Trans Am, already running, the high banks of Talladega dead ahead — and brother, he wrapped up that temptation with both hands. Seriously, who among us could hold out in the face of that?
A NASCAR official spotted the passing car, didn't recognize the driver, and keyed the radio, calling out, "Who's that fucker in the pace car?"
That fucker proceeded to hit triple digits on the back stretch, and came back around to an entire blockade waiting for him. Here's video:
The crews, who by now had realized what was happening, began cheering Darren. The fans picked up on it too, particularly when the blockade rolled out. The Trans Am rolled to a stop, and as the track's then-PR director, Jim Freeman, told Vice in 2015, more hilarity ensued:
"They started playing a deal of lock the doors, unlock the doors. They apparently had another set of keys. They would unlock the doors with the key, and he would lock them back. Lock, unlock. Lock, unlock. Finally they managed to grab the door handle before he could lock it back one time. They dragged him out of the car. Well, he didn't have a shirt on. They got a big fist full of his hair. One of these long-haired hippie guys. They grabbed a big fist full of his hair and pulled him out of the car. The crowd starts booing. Police brutality and all that sort of stuff. But they had nothing to grab onto except his hair."
Alas, they don't leave pace cars running unattended any more. Trust me. I check.
(Sources: New York Times, Vice. Photo of Junior's last ride at Talladega by me, 2017.)
---
Street Art of the Week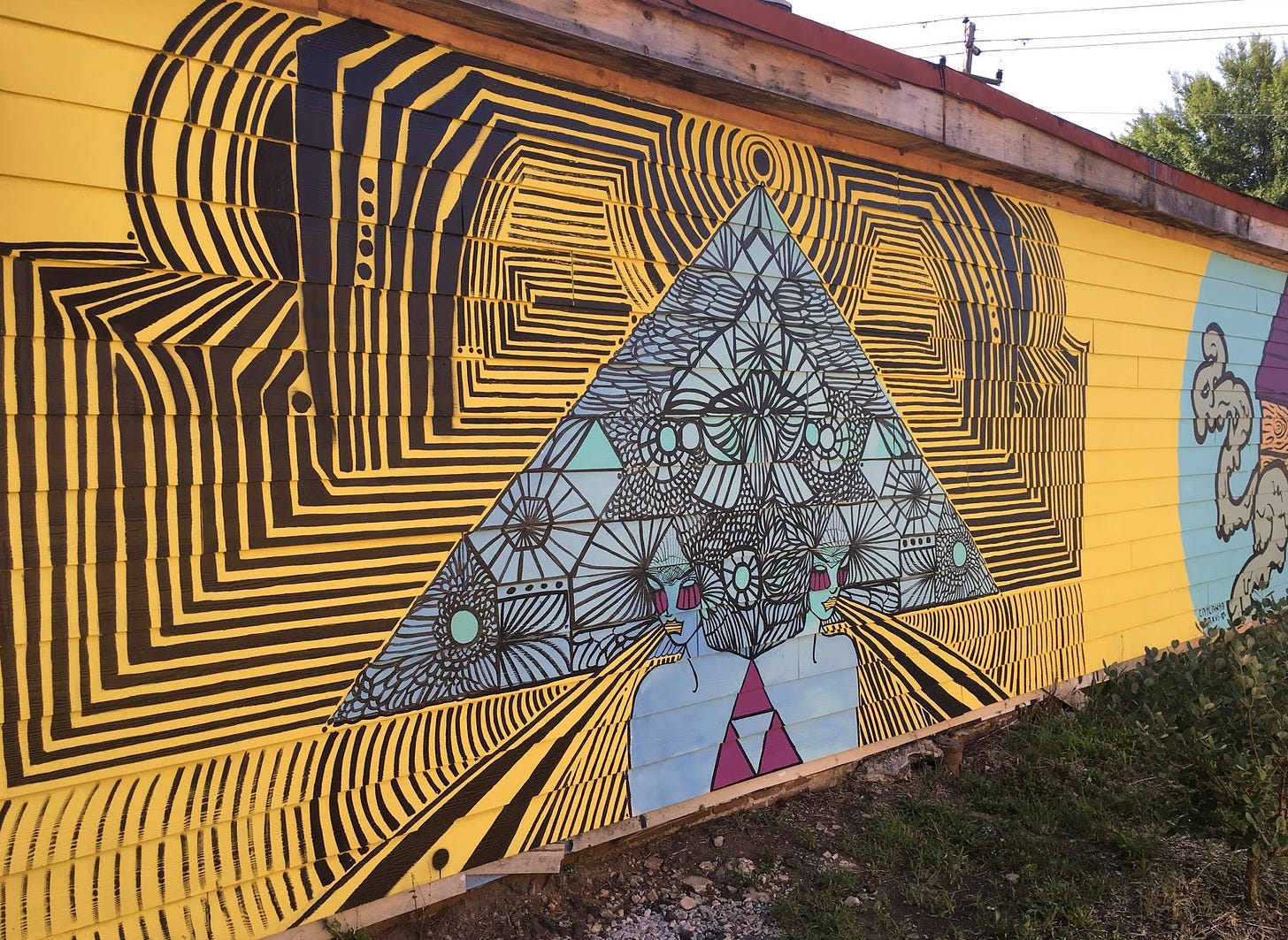 A particular favorite, from East Atlanta. Stare at it long enough and you can see whatever you want to see, particularly if you've loaded up on chicken sausage from Delia's up the road.
---
Recommended
Here's the content I've been enjoying this week …
"Not Our First Goat Rodeo," Yo-Yo Ma, Stuart Duncan, Edgar Meyer, Chris Thile: It's Yo-Yo Ma playing bluegrass, and it's magnificent. Somehow the man is able to make a cello sing with emotion even a choir can't match.
"For All Mankind," AppleTV: I'm a space nerd from way back, and this series — which hinges on the hypothetical what-if of the Russians reaching the moon first — hit all the marks for me. Plus, keep your haunted houses and cursed cemeteries; for me, astronauts in the middle of space trying to hold onto a shattering space capsule is more terrifying than anything that comes out of a sewer.
"Wrapped Up In The Confederate Flag," Stephanie McCrummen, Washington Post: Ahead of Talladega, a look at how the tiny town of Heflin, Alabama, which has a store that sells all manner of Confederate memorabilia, is handling changing times. It's not some tired East-Coast-media-elite-dunks-on-salt-of-the-earth-rednecks story. Instead, it's a nuanced look at how (some) people are struggling with the realization that everything they've been told their whole lives about other races might not be entirely true.
Your ongoing, ever-growing Flashlight & A Biscuit playlist:
---
Last Call: As Alabama As It Gets
Behold the majesty that is Barbecue Sauce Wrestling.
Talladega's infield is a lawless hellscape, a world where only the strong and the drunk thrive. It's a land of RVs and portable stripper poles, a world where you'll see children wandering alone and dogs trying to drink beer. Music from a dozen genres — though, let's be real, mostly country — filters up and down Talladega Boulevard on the Saturday night before the race, and if you can't witness at least four Commandments being broken at any given moment, you're not looking hard enough. Folks, it's glorious. (Here's a story I wrote on the infield a few years back that digs deeper. Wash your hands after reading.)
In recent years, Talladega's tried to corral the anarchy with a series of events on Saturday night — present year excepted, sadly — and one of my personal favorites is the barbecue sauce wrestling event, where competitors meet in a kiddie pool filled with sauce. Let's run down the many ways this is As Alabama As It Gets:
This appears to be a man and a woman, which raises the very real possibility that this is some form of courtship.

There are at least half a dozen people here paying little to no attention to what's going on, as if wrestling in sauce is a sight as common in Alabama as a bird's morning song.

There is not only a readily available kiddie pool to host this event, but readily available gallons of barbecue sauce to fill it.

You can't smell a GIF. Consider yourself lucky; I had to squeegee my entire sinus cavity for a week after this.

The bald fellow doesn't appear to have a whole lot of strategy here, and is instead relying on brute force for victory. It's a reasonable gambit, at least until his opponent starts slinging sauce in his face.

At the start of each match, competitors are given goggles to wear. It's been proven that the goggles protect your eyes from the very real stinging effects of barbecue sauce. And yet, these two have opted not to wear goggles despite the documented health benefits. Curious.

No matter who wins, both will declare themselves Barbecue Sauce Wrestling Champion, because this is Alabama and that's how they roll* around here.
*- tide
---
That'll do it for this week. Till we meet again, drive up over that far hill and see what's on the other side. Peace!
—Jay