Flashlight & A Biscuit, No. 6: Tragedy & heroism on Pine Mountain
A plane crash and a charge into darkness in the middle of nowhere.
Welcome to Flashlight & A Biscuit, my Southern sports/culture/food offshoot of my work at Yahoo Sports. Thanks for reading, and why not subscribe below? It's free and all.
Hey there. Hope you're hanging in OK. We're one week closer to the end of this than we were last week, right? Anyway … my beloved home state of Georgia is really pushing hard for some kind of COVID-era medal of distinction, so today, an all-but-forgotten story about some legitimately heroic Georgians.
Pine Mountain, on the western edge of the state, is one of the last little foothills of the Appalachian Mountains, one of the final high points as you head south toward the Gulf of Mexico. It's fairly remote, tree-covered — take a wild guess what kind of tree is most prevalent — and was one of the favorite respites of FDR back in the '40s. It's not the kind of place you just stumble across.
There are only a couple buildings on Pine Mountain, a FDR-era WPA-built rest stop for hikers and, a few miles south, a small restaurant and Southern-kitsch shop. State Route 190, a two-lane highway, traverses the mountain, and hiking trails crisscross it.
On a clear day, you can see three counties over. On a clear evening, you can pick out planes moving amongst the stars. But on a foggy night, you can't see a damn thing.
Rain poured down and fog shrouded the mountain on the night of Oct. 1, 1953. Around 9:30 that night, Robert Wadsworth, his father-in-law Homer Swan, and a local minister named Billy Colquitt were just wrapping up a little visit when they heard a plane roaring, impossibly loud and far too low, right over their heads.
They were at the foot of Pine Mountain, and they knew it lay directly in that plane's path. Seconds later, they heard an impact that echoed across the valley.
The plane was a B-25 out of Eglin Air Force Base on the Gulf Coast of Florida, headed to Andrews Air Force Base just outside Washington, D.C. Bad weather had forced the plane to divert westward from Atlanta, and the pilot opted to use visual flight rules to navigate his way from Columbus, Ga. up to Atlanta — but the heavy fog disguised the remote, dark Pine Mountain until it was too late. The pilot, Capt. Stephen A. Clisham, pulled back on the stick in a desperate, futile attempt to clear the mountain. They wouldn't make it.
Four of the crew died on impact: Clisham, co-pilot Capt. Virgil G. Harris, Tech. Sgt. Othelier B. Hoke and Airman 3rd Class Robert W. Davidson. Two others were thrown clear of the wreckage: sailor Richard K. Schmidt and Airman 2nd Class Benny J. Shepard.
Schmidt awoke to find himself battered, broken, soaked and covered in mud and blood and fuel. Miraculously, the nearly-full fuel tanks had not ignited on impact. He could hear Wadsworth and the others tramping up the hill and through dense underbrush toward him, and he called out, "Don't strike any matches!"
Shepard was in agony; his wounds were mortal, and Colquitt knelt by his side and asked Shepard if he'd been saved. "We prayed, and God saved him, and then he died," Colquitt would say years later. "Wasn't that a miracle?"
Wadsworth and Swan pursued a more earthly form of salvation for Schmidt. They -- along with nearby hunters and local residents -- kept him stable until a doctor could arrive to give him a shot of morphine. Then they hauled the six-foot-three Schmidt out of the wilderness, through the muck and the rain, through woods that could have ignited at any minute with all the jet fuel around.
Just take a second to imagine the courage that must have taken, to walk into a crash zone of carnage and destruction, a scene that could have exploded into flame at any moment. These are the tales that always make me feel a little better about the state of humanity, the way that most people will rise up in times of supreme peril and do what's right.
Schmidt survived; he suffered a broken hip and spent two weeks in intensive care and then lived a civilian life in New Jersey. He finally returned to the site of the crash in 2012 at a ceremony honoring both the victims and the rescuers.
If you duck off S.R. 190, down a winding path to an overlook called Dowdell's Knob, you'll be right where FDR used to have picnics and look out on the valley. You'll also be just a few dozen feet from the site of the B-25 wreck. It happened nearly 70 years ago, but hikers in the area were still finding pieces of the wreckage as recently as 2012. A plaque, unveiled then, commemorates the fallen crew:
I've hiked this area, and I'm no geologist, but I would swear that the rocks, the trees, even the very soil itself changes as you walk westward from Dowdell's Knob toward the site of the crash. Is 70 years enough time to erase the evidence of a crash like that? I don't know. If you look at the site from the air, it sure seems like there's a crescent-shaped scar spreading out directly from where the plane would have impacted:
You can see the Dowdell's Knob parking lot in the upper right, and the road where Wadsworth and the others were standing when the plane flew over their heads in the lower right. And a whole lot of nothing in every direction.
A plaque and a single news story aren't much to honor the lives of five men and the heroes who saved the sixth. But they're better than nothing. Pine Mountain's a beautiful place, but it's a lonely one too. Good thing there were people nearby willing to lend a hand.
(Sources: the Columbus Ledger-Enquirer, and also me)
Subscribe to get these stories delivered free to you every week:
---
Check This Stuff Out: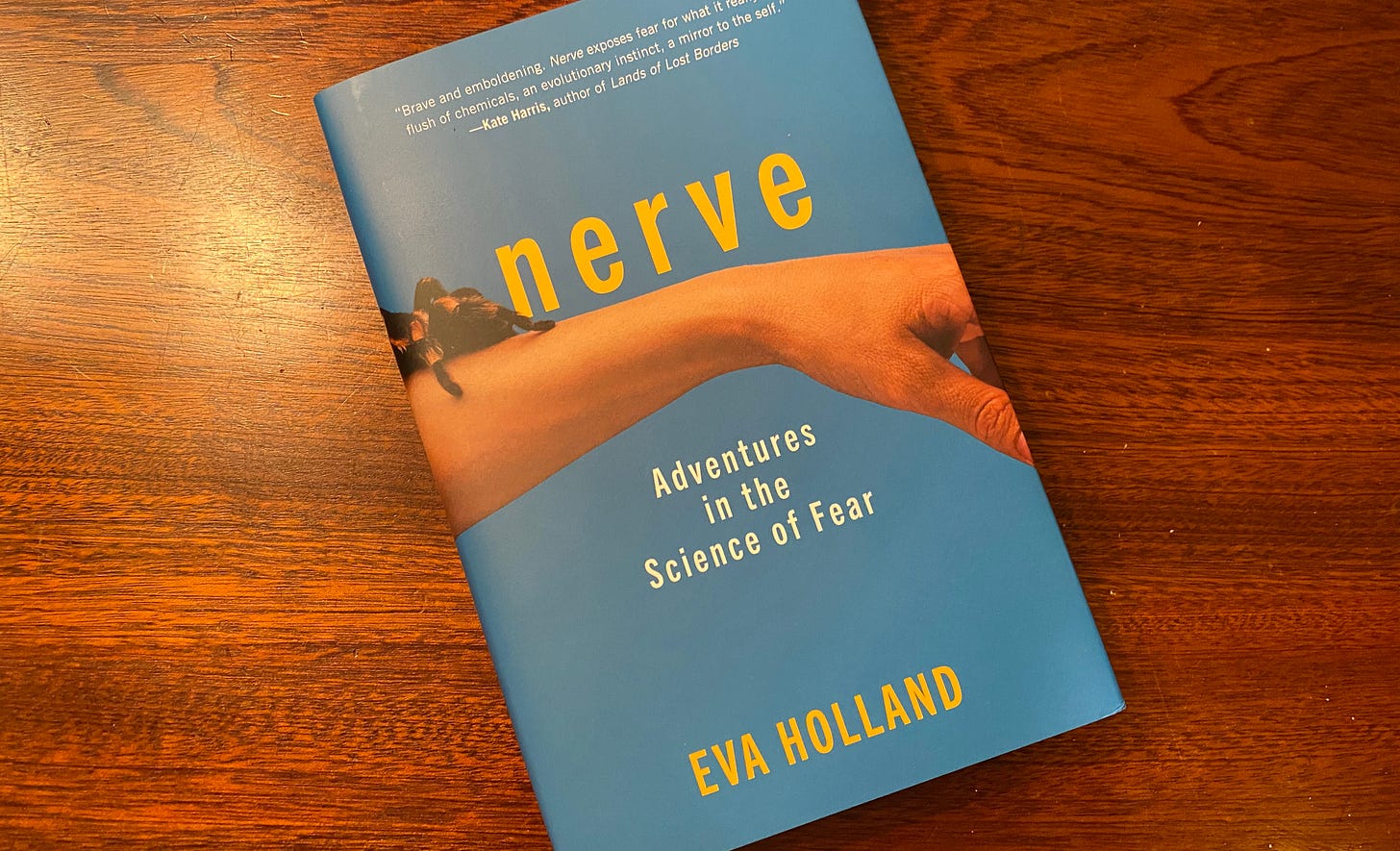 Ran a bit long with that tale of Pine Mountain above, so let's tighten it up a bit. Here's some of the quarantine content I've been enjoying this week.
Book:
Nerve: Adventures in the Science of Fear, Eva Holland. We all live in a kind of low-level dread right now, but in this book, Eva — one of the best outdoors writers around — throws herself into the high-level sort: looking over the edges of steep heights, facing up to the death of loved ones. Eva had the bad fortune to have this book come out right as the pandemic hit, but damn, it's a fine and necessary one now.
Music:
Tame Impala, The Slow Rush: Tame Impala was always one of those deals I never quite got, but all the smart music people I know love them, so when the band's latest dropped a few weeks back, it was high time for me to get in on an act that's been around for more than a decade. And it's … a lot, I'll be honest, but I dig it — a synthesis of ethereal airy pop, jam-band noodling and '80s arcade soundscapes. I'm listening to it right now on a Sunday afternoon on a sunny back porch, which seems a pretty optimal scenario for this kind of sprawling complexity.
Podcast:
The Fire Pit, Matt Ginella: Kind of mad I didn't steal this title myself; I will hang with anyone around any fire pit anywhere. And while I presume that Matt, one of our best golf writers, isn't yet actually hanging around fire pits interviewing his subjects for his new podcast, he's nonetheless getting great tales of Augusta, Pebble Beach and much more out of his guests. Fun listen in un-fun times.
---
Menu of the Week:
Waffle House, Georgia
I ate at a restaurant for the first time in six weeks a few days ago. The state of Georgia authorized restaurants to open if they desired, and the wondrous Waffle House took Gov. Brian Kemp up on his highly debatable offer. I wrote up my visit for Yahoo; short version, things won't be normal anywhere for a long time to come, starting with the disposable menus as seen above.
---
Photo of the Week:
Out on another assignment on Friday — more on that one next week, it was pretty cool — I came across this poor sad bastard. You've spent a month and a half in quarantine, you go out for the first time in who knows how long, and suddenly your car is consumed in flame. 2020 sucks, man.
---
That'll do it for this week, friends. Thank heaven it's May; the sun may not kill the 'rona, but it's good for the soul. Be good and I'll catch you soon.
-Jay
If you dug this, subscribe or share it with a pal. It's not like y'all don't have time to read.
Previous issues: