Flashlight & A Biscuit, No. 9: 'If we lose Atlanta, what else we got?'
Words from others on wounds and scars.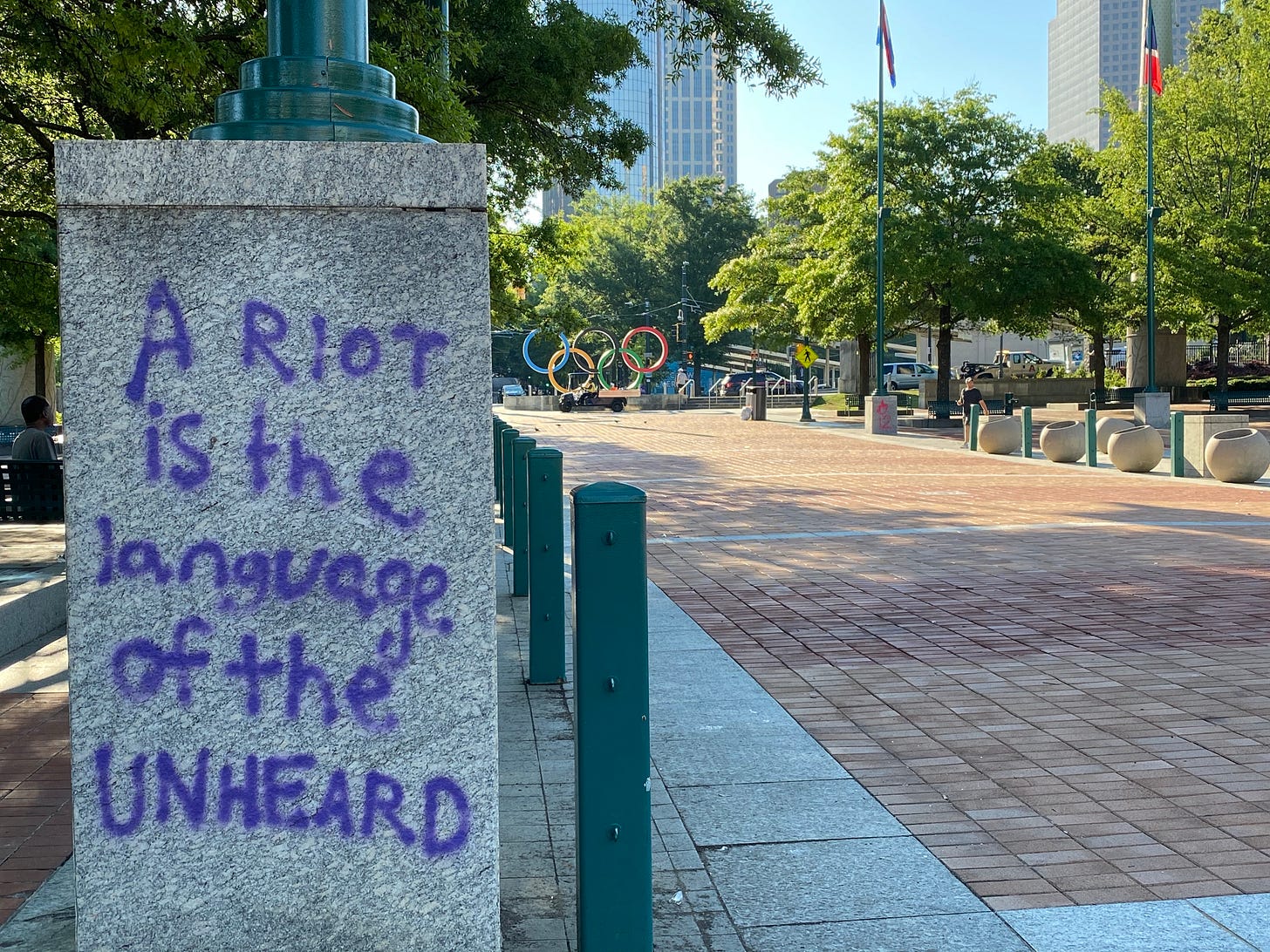 Welcome to Flashlight & A Biscuit, my Southern sports/culture/food offshoot of my work at Yahoo Sports. Thanks for reading, and why not subscribe below? It's free and all.
So I had a story for this week's F&AB all cued up and ready to go, a fun one about the legendary Lizard Man of Scape Ore Swamp in South Carolina. And then I went out Saturday morning and spent several hours walking around the shattered storefronts of downtown Atlanta, and, well … you're gonna have to wait till next weekend, Lizard Man. 
Friends, I am so white that I played John Denver on an acoustic guitar around a campfire last weekend. The last thing our current national crisis needs is more well-meaning but inconsequential platitudes. So this week, I'm going to turn the mic over to a few others. Give 'em a few minutes of your time, if you would.
First, Killer Mike:
When the history of these dark days is written, this powerful, emotional, challenging Friday night speech ought to get its due. Historically aware, heartbreaking in its raw emotion, this is clear-eyed rage with the intent of uplifting, not destroying. It's uncomfortable and thought-provoking and brilliant.
Next, Kareem Abdul-Jabbar lays out in precise, clear, direct fashion why African-Americans are protesting, and why this crisis looks so very different for those seeing it in their community rather than those seeing it on TV. 
Here's an Atlanta cop — no helmet, no baton, no Avengers-fighting-Thanos body armor, just a voice and a heart — defusing anger by noting that he understands the difference between nonviolent protest and agitation. Empathy goes a long way: 
And finally … this right here is as Atlanta as it gets. A demonstrator makes fun of a cop's "little shield" … and the cop has to sheepishly smile and admit, yeah, it's pretty tiny: 
That'll do it for this week. Stay safe, love each other, and come on back next week and meet the Lizard Man. Peace! 
-Jay
Sunday morning
Previous issues: